Marinette County has a unique geological structure and diversity of gradient that has created many magnificent waterfalls. There are dozens of larger falls and hundreds of smaller ones throughout the area. The best part is that many of them are easily accessible via county parks or forest lands that are yours to explore.
There is a formal tour of about a dozen major waterfalls that are open to the public. Accessibility varies from being able to see Twelve Foot Falls from the parking lot, to a short hike into Eighteen Foot Falls. Most are reasonably accessible and many of the waterfalls are within county parks and have additional facilities such as playgrounds, picnic areas, shelters, and restrooms. Some County Parks even offer camping. Check out the map and make your plans to visit them all!
Twelve Foot Falls
Twelve Foot Falls is easily accessible in 12 Foot Falls County Park, and is located on the Pike River just west of Highway 141 off of Highway 8. Take Lilly Lake Rd south from Highway 8 and follow the signs. Camping and picnic facilities are also available.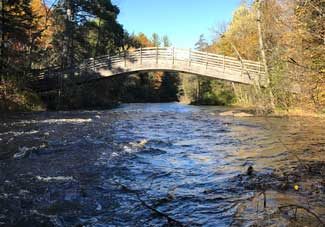 Veteran's Falls
Veteran's Falls is in Veteran's Memorial Park on the Thunder River just west of Crivitz in the Twin Bridge Area. The park is located between W and the southern end of the High Falls Flowage on Parkway Road. Steep hills lead to the bridge and falls. There are camping and picnicking facilities in the park.
Strong Falls
Strong Falls is Located on the Peshtigo River in Goodman Park between Highway 8 and County Highway C on Parkway Road (County I). There are picnic, shelter, and sanitary facilities located in the park. Again, there are also several other falls located upstream, all accessible via footbridge.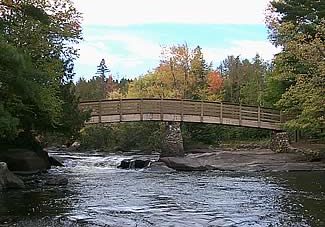 McClintock Park
Just south of Goodman Park on County I, McClintock Park also has a falls, bridges, picnic and camping areas, and more. Recently, the county added ATV camping at this location.
Eight Foot Falls
Eight Foot Falls is just downstream of Twelve Foot Falls. A short walk though the campground and down a path takes you right to the falls.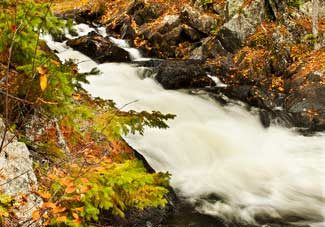 Eighteen Foot Falls
Eighteen Foot Falls is right on the way out of Twelve Foot Falls Park. Go north on Twelve foot Falls Road and take the second sand road on the right. Drive or walk about 1/2 mile back to the falls.
Dave's Falls
Dave's Falls is also located on the Pike River at Dave's Falls County Park, located on Highway 141 just south of Amberg. The park has picnic areas and a play area as well as rest areas. There are several other falls located just upstream, and they are accessible from either side of the river thanks to a foot bridge.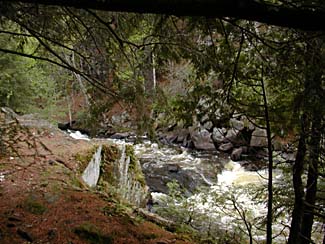 Bulls Falls
Bull Falls, also on the Pike River, is just across the highway from Dave's Falls County Park. Go north on 141 about 300 feet to Hwy V east. Turn right onto V and go about 1/4 mile to the power lines. Park, and walk down the power lines to the river, and the falls is just downstream.
Smalley Falls
Smalley Falls is a chute falls peppered with boulders. Very nice! Take 141 about 5 miles north of Pembine to Morgan Park Road. Follow Morgan Park Road until you see the turn-off for Smalley Falls. Long Slide Falls, another great one, is right down the road.
Long Slide Falls
Long Slide Falls is down Morgan Park Road past Smalley Falls. Continue until you see the sign and turn-out for Long Slide. A paved parking area gives way to a nice 1/4 mile hiking trail. The falls drops about 50 feet through a chute peppered with rocks and ledges. Outstanding!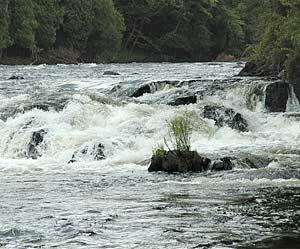 Pier's Gorge Scenic Area
Pier's Gorge Scenic Area is just magnificent. This huge river and falls is nestled between high cliffs and forested shores on the Menominee River. Take Highway 141 north to Highway 8 east. Follow 8 east across the bridge and turn left at the sign.
Follow the road back to the end. There is a foot path that takes you back to the various vistas that the gorge offers. This gorge is also commercially white water rafted on weekends, a thrilling show!
Horseshoe Falls
From 12 Foot Falls Park, take 12 Foot Falls Rd south past Trout Haven Road to FR510. Follow FR510 to the turn-off and parking area for the falls. The roads are sometimes in rough shape during frost out in spring, and in muddy weather. A nice waterfall.