There are many fishing options when you visit the Crivitz, Wisconsin area. Hundreds of small lakes in the area keep the bass, pan fish, and northern fishermen coming back year after year.
There are also hundreds of miles of pristine trout streams in Marinette County, the most Class A miles of any county in the state.
The shining gem of the region is the Wild Shores Area; including Caldron Falls Flowage, High Falls Flowage, Johnson Falls, the Sandstone Flowage, and the Potato Rapids Flowages. This twenty mile long stretch of forests, lakes, and river is surrounded by almost 10,000 acres of undeveloped wild lands, much of which makes up the new Peshtigo River State Forest.
There is something for everyone, with healthy trout, bass, pan fish, and Northern Pike populations, and Caldron Falls and High Falls Flowages are Class A Muskie waters. Both Caldron Falls and High Falls have published maps available to guide you to the best spots and help you navigate. There are 14 public boat launches along the flowages to provide easy access.
When winter hits the Crivitz area, ice fishermen make villages out on the ice. If you do not have your own ice shack, local businesses rent them.
There are many other local lakes that are popular with the sport fishermen, including Lake Noquebay, just a few miles northeast of Crivitz.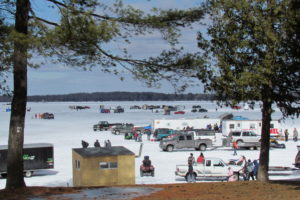 Below is a listing of fishing related businesses in the area to help you find the best lodging, supplies and services that are offered in the area.