Boat Landing 3 Road, Crivitz, WI 54114, United States
The Twin Bridge Ski Team performs Thursday and Saturday nights at the Stephenson Town Park on High Falls Flowage located 12 miles northwest of Crivitz at Boat Landing #3. Check out our website for current schedule and photo gallery.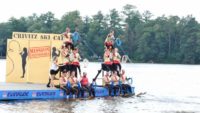 W6188 County Hwy GG, Crivitz WI 54114
The Crivitz Ski Cats perform Wednesday and Saturday nights on Lake Noquebay, just 2 miles north and 2 miles east of Criviz.