N15201 Goodman Park Rd, Athelstane, WI 54104
Large and small lodges available for day use rental. Goodman has a 15-site campground on the Peshtigo River in the heart of the Marinette County Forest. The campground has firewood for sale, vault toilets, a dump station, and a potable water tower for campers. Water is also available at a hand pump. A large group campsite is available by reservation. Also available by reservation is an enclosed, log day use lodge and a cabin available for overnight stays.
The upper Peshtigo River along with numerous nearby streams provides trout fishing. There is an ATV and snowmobile trail access spur that connects the trail system with the park.
Opens May 1, Closes the end of November after the Deer Gun Season.
Check-In Time: 8:30 am
Check-Out Time: 10:00 pm
Location – Northwest Marinette County on the banks of Peshtigo River in the Town of Silver Cliff. Go west from US-141 at Wausaukee on County Highway C for about 20 miles, follow north for 9 miles on Parkway Road (County I), then northwest 2 miles on Goodman Park Road to park entrance.
W6188 County Hwy GG, Crivitz, WI 54114
Lake Noquebay Park Lodge (12 Acres) provides a swimming beach, boat landing, large lodge available for day use rental, change house with flush toilets for swimmers, lake fishing, and picnic facilities.
Lodge opens May 1, closes November 1.
Check-In Time: 8:30 am
Check-Out Time: 10:00 pm
East of Crivitz on the south shore of Lake Noquebay. Take County Hwy W east out of Crivitz, then turn left on County Hwy GG. After about 3 miles, turn left onto Noquebay Road into park.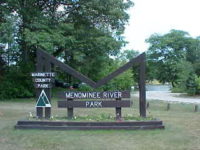 N9012 Park Place Drive, Wausaukee, WI 54177
Lodge available for day use rental. (65 Acres) This park provides a beautiful view of the Menominee River, a picnic area that includes a small open-sided shelter (open to reservations), fishing, and a boat landing. A small riverside campsite is available at no charge for canoe camping. Available on a first come, first serve basis.
Check-In Time: 8:00 am
Check-Out Time: 10:00 pm
Location – Southeast Marinette County in the Town of Wagner about 18 miles north of Marinette off of Hwy 180 on the banks of the Menominee River. At the intersection of Cty X and Hwy 180, go 1/2 mile east down Park Place Drive into the park.