W10508 Kottke Road Crivitz WI 54114
Go Karts, Kiddie Track, Bumper Boats, Arcade, Mini Golf, Bumper Cars
N12080 Alison Lane Athelstane WI 54104
Your one stop for adventure! Overlooking the rapids and nestled within the old growth forest of the North Woods, Wildman Adventure Resort offers many outdoor adventures ranging from mild to wild. Wildman Adventure Resort has two resort locations; one along the rapids of the Peshtigo River and the other along the nearby Menominee River. Both offer breathtaking scenery and the most challenging whitewater in the Midwest.

In addition to action adventures, Wildman also offers deluxe lodging including riverside cabins and camping, a beautiful golf course, fishing opportunities, and private access to riverside hiking. There are many other things to enjoy on the property including sand volleyball, horseshoe pits, an entertainment pavilion with fireplace, a small merchandise store, free wireless internet, and much more!!!
Whether you are visiting for a day, staying for a week, or checking in for an extended weekend, we invite you to come and stay, play, and relax in nature's playground.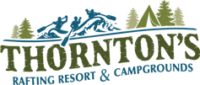 W 12882 Parkway Road, Athelstane, WI 54104
Welcome to Thornton's Whitewater Rafting Resort & Campgrounds. We specialize in providing you, your family or group one of the most thrilling and memorable experiences in the entire Midwest. Guided rafting trips are run daily from April – October on the exciting Peshtigo and Menominee Rivers and are guaranteed to include crashing whitewater rapids, gentle stretches of river and some of the most scenic wilderness in the State of Wisconsin.
Whether you just need some time away from the daily routine, or want to try something different, Thornton's Whitewater Rafting Resort & Campgrounds will provide you with the vacation you deserve in Wisconsin's beautiful northwoods.
After your trip down the Peshtigo or Menominee Rivers, spend some time at Thornton's Rafting Resort & Campgrounds. Our 18 acre campground features individual water and electric sites, as well as individual and large, wooded group sites. Each site has its own picnic table and fire pit. We have many spacious, wooded campsites with several fire pits and picnic tables to accommodate larger groups. Large, modern shower and restroom facilities are within walking distance of all sites. All sites provide ample parking for all of your vehicles. Pets are welcome as long as you pick up after them and keep them in your campsite.